INS 11th World Congress in Berlin
---
THE INTERNATIONAL NEUROMODULATION SOCIETY bids a fond farewell to Professor Krishna Kumar, MD, founding president of the Canadian Neuromodulation Society and a gentle and indefatigable pioneer for our field, who died April 13, 2014 after a heart attack in Regina, Saskatchewan, Canada. Born Jan. 12, 1931 in Jabalpur, India, he came to Canada as a young man, where he raised his family and became a neurosurgeon and professor, and received many honors and accolades along the way. He was named the first Giant of Neuromodulation by the INS in 2011, in recognition of his groundbreaking work establishing appropriate use of spinal cord stimulation for improved function and quality of life in chronic pain conditions.
---
Breaking News


April 21, 2014 - A feature in the New York Times describes the development of optogenetics, and profiles one contributor to its development, the Stanford University Professor of Bioengineering and of Psychiatry and Behavioral Sciences Karl Deisseroth, MD, PhD. The article is one of four news features about brain mapping that the newspaper has published in the past year, and it also mentions brain-mapping work that his team presented at the November 2013 annual meeting of the Society for Neuroscience in San Diego. (New York Times)
Husband and Wife with Chronic Pain Both Benefit from Receiving Spinal Cord Stimulators
April 18, 2014 - A husband and wife in Indiana who are in their 50s both had spinal cord stimulation systems implanted for chronic back pain and can now live more active lives and continue working. Their provider said the effects of neuromodulation are among the most dramatic in his pain practice. (News-Sentinel)
April 17, 2014 - A charity group in South Korea agreed to provide support so that children with drug-resistant epilepsy can receive vagus nerve stimulation (VNS) to limit their seizures. Up to 25 patients will be supported each year, with priority to families that cannot afford medical care. The commitment will be for up to 2 million won (approximately $2,000 in U.S. dollars) in medical bill coverage per patient. The agreement was formalized in a memorandum of understanding between a medical society, the Korean Child Neurology Society, and a charity group, the Supporters Society for Korea Parents of the Disabled Association. Since April 2013 the charity group has already enabled eight pediatric patients to receive VNS implants. (Korea Times)
April 15, 2014 - In a news feature for Parkinson's disease month, Southern Illinois University School of Medicine neurosurgeon Jeffrey Cozzens, MD, a member of the International Neuromodulation Society, is interviewed about how some 80-90% of patients who meet criteria to receive deep brain stimulation to control tremors notice some improvement, even though the disease itself can still progress. Having performed more than 350 of these surgeries over the years, he remarked that these patients are his happiest and thrilled to "get their lives back". (Devils Lake Journal)
April 15, 2014 - In a profile of a patient who received robotic-assisted deep brain stimulation surgery for essential tremor, a physician explains that the technology allows patients to be able to move a little and be more comfortable during the surgery, as well as shortening the time it takes to perform. (Florida Times-Union)
April 16, 2014 - In its first quarter 2014 earnings report, St. Jude Medical Inc. announced net sales increased 4% over 2013. Neuromodulation product sales were flat at $99 million compared to the same quarter one year ago, but CE mark approval and European launch of the Prodigy spinal cord stimulation system was explicated to be a future driver of growth. (Medical Product Outsourcing)
April 15, 2014 - A presentation submitted to an upcoming medical meeting by International Neuromodulation Society member Shivanand P. Lad, MD concerns data from 12,300 insurance claims for spinal cord stimulation implants that indicate almost one in 100 cases show some degree of spinal cord or spinal nerve-root damage, according to an article in the Wall Street Journal. INS member and journal Editor-in-Chief Robert M. Levy, MD, PhD was attributed to say that uneven training across medical specialties and a perception that such implants are easy to perform is often at the root of surgical complications. Among other sources, the article also quotes INS member Gilbert Fanciullo, MD, director of pain medicine at the Dartmouth-Hitchcock Medical Center, about the importance for practitioners to be familiar with implantation risks. (Wall Street Journal)
April 15, 2014 - International Neuromodulation Society member Shannon Hann, MD, presented a case series at the American Association of Neurological Surgeons 82nd Annual Meeting in which 14 of 20 patients with medically refractory primary headache found pain relief of more than 50% through combined neurostimulation of occipital and supraorbital nerves over a mean followup of 34 months. Patients with facial pain developed allodynia and had to have the systems removed. She said the combined stimulation bears further investigation and on average appears that it may be more effective than occipital stimulation alone. (Medscape)
April 14, 2014 - In a urology meeting debate concerning treatment with botulinum toxin or sacral neuromodulation for overactive bladder, sacral neuromodulation advantages mentioned included that it can enhance voiding and defecation, which may also present problems in these patients. (European Association of Urology)
April 9, 2014 - To fund ongoing development of its chronic back pain device to stabilize muscles of the lower spine, the Irish medical device company Mainstay Medical announced it plans an initial public offered on the Euronext market in Paris and Dublin's junior Enterprise Securities Market to raise up to €26.4 million through sale of 851,175 shares. (Irish Times)
April 10, 2014 - Boston Scientific Corporation announced enrollment of the first patient in a new registry of the Vercise(TM) Deep Brain Stimulation (DBS) System in patients with Parkinson's disease. Approved for sale in Europe, Israel, Australia and select countries in Latin America, the system offers multiple independent current control and a Zero Volt(TM) battery designed for longevity. The registry will evaluate the system's clinical outcomes and the economic value. (Wall Street Journal)
April 10, 2014 - In preparation for pivotal clinical trials of its low-field magnetic stimulation therapy for depression, Tal Medical, Inc. of Boston added Jan Skvarka as president, CEO and member of the board of directors, as well as Ben Shapiro, MD, also on the board of directors. The National Institute of Mental Health selected the technology for its RAPID treatment program evaluating novel rapidly acting antidepressant treatments. The company is preparing for multi-site clinical trials led by psychiatric researcher Maurizio Fava, MD, director of the Clinical Research Program at Massachusetts General Hospital. The trial will examine the efficacy and durability of the treatment over an extended period of time in patients with major depressive disorder. (Market Watch)
April 9, 2014 - The value of the U.S. neurostimulation device market will approach $4 billion by 2022, according to the Decision Resources Group, due in part to first-time demand for replacement of implantable pulse generators in new patients -- as well as anticipated growth in chronic heart failure, obesity, and epilepsy. However, market penetration is still thought to be low generally "because many referring physicians are not exposed to neurostimulation in medical school." (Digital Journal)
April 9, 2014 - A column by the Motley Fool says now that three paralyzed patients were able to move limbs through a combination of spinal cord stimulation and physical therapy, there should be potential optimism for investors and patients who could anticipate growth in the neuromodulation sector. The column points out that the implanted systems were manufactured by Medtronic, Inc. and mentions the latest business developments from St. Jude Medical and Boston Scientific Corporation. (Motley Fool)
April 8, 2014 - International Neuromodulation Society member John Honeycutt, MD, was interviewed about a 7-year-old girl who has always had dystonia and was able to start bicycling three months after she received a deep brain stimulation implant during a relatively new "asleep" procedure. (Ivanhoe Broadcast News)
Spinal Cord Stimulation in Four Spinal Cord Injury Patients Enables Voluntary Movement After Complete ParalysisApril 9, 2014 - Spinal cord stimulation allowed four people with paraplegia to move previously paralyzed muscles, according to a news release by the National Institutes of Health, which partially funded the study along with the Christopher & Dana Reeve Foundation. The research (also covered in the Wall Street Journal and other publications) was published Tuesday in the journal Brain. "Neuromodulation of the sub-threshold motor state of excitability of the lumbosacral spinal networks was the key to recovery of intentional movement," the authors write. (Los Angeles Times)
April 7, 2014 - A woman who had deep brain stimulation for essential tremor 15 years ago was featured in a radio broadcast about the condition. She said she cried when stimulation was first applied and quoted her tremors, which have returned to a small degree but do not interrupt her life anymore. (NPR)
April 4, 2014 - Twenty-seven authors of a retrospective analysis of 309 patients who received deep brain stimulation of the subthalamic nucleus (STN) for Parkinson's disease in France report in Neurology that the STN is the best target to control motor symptoms, postoperative cognitive deficit is mainly related to the surgery itself, and hypomania induced by stimulation in 19 cases appears to stem from both the disease characteristics (younger age, shorter disease duration, higher levodopa responsiveness) and a more ventral location of the electrode in the STN. (News-Medical.Net)
April 4, 2014 - The FDA has approved St. Jude Medical's Protégé™ implantable pulse generator for spinal cord stimulation, the first such device to allow future technology upgrades through software updates. New stimulation modes -- such as the currently investigated burst mode -- diagnostic capabilities, or other features could be accessed noninvasively, without needing surgery. The device has a seven-year warranty and 10-year projected battery life. International Neuromodulation Society member Tim Deer, MD, was the first to implant the device, the smallest in its class. "In the first 40 years of SCS we've seen advances in hardware but limited progress in software and programming. This new device evolves with promising therapies," he commented. (Enhanced Online News)
April 3, 2014 - International Neuromodulation Society members Peter Konrad, MD, PhD, and Joseph Neimat, MD, of Vanderbilt University are part of a long-term study of deep brain stimulation (DBS) in early-stage Parkinson's disease, which has moved into a large Phase III, multi-center safety and efficacy trial. (Vanderbilt)
April 2, 2014 - A former resident of the U.S. who stopped hosting a radio show after developing Parkinson's disease describes in a radio interview how he got up out of a wheelchair and strolled down a hall after his deep brain stimulation implant was activated. He said he was grateful that the government in Canada covered the cost of the therapy, voicing concern that it might have been costly for him to try to obtain in the U.S. (CBC Radio)
March 31, 2014 - In anticipation of a public pain day on April 13, 2014 in Hobart, Australia, a patient is featured who eventually found relief after receiving a spinal cord stimulator implant for chronic pain 12 years after a rare abdominal bleeding condition, portal vein thrombosis, at the recommendation of a pain physician. She said the device lowered her pain 80% and within 24 hours wanted to stop her opioid medication. (The Examiner)
May 2014 - International Neuromodulation Society member Teodor Goroszeniuk, MD and co-author David Pang, FRCA write in a review of peripheral neuromodulation that new technologies for more easily and safely placing electrodes percutaneously should further expand its uses; in addition to intractable headache, uses include neuropathic, visceral, cardiac, abdominal, low back and facial pain. Also under extensive investigation is its use in modulating organ function in treatment of syndromes such as epilepsy, incontinence and obesity with vagal, tibial and gastric stimulation. (Current Pain and Headache Reports)
April 2, 2014 - Medtronic Inc.'s principal electrical engineer, Heather Orser, PhD, presented a poster at the American Academy of Pain Medicine Annual Meeting in March regarding safety of a new full-body, conditionally MRI-safe spinal cord stimulation lead. Based on animal data and simulations of lead paths in human models -- combined with lead characterization analyses -- the results showed that the design for reduced radiofrequency-induced heating produced temperatures below 43º C for the full range of scenarios during 30 minutes of active scanning. (Healio)

March 31, 2014 - The Baptist Health medical center in Jacksonville, Florida has begun using the Mazor Robotics Renaissance Guidance System to perform bilateral deep brain stimulation. A patient who received the procedure for his essential tremor described how the implant helps control his symptoms. (First Coast News)
April 1, 2014 - Ohio-based Neuros Medical, Inc. was featured in an article about the regional industry for electrical stimulation technology to address "spinal cord injury, stroke, bladder incontinence and chronic pain." International Neuromodulation Society member Amol Soin, MD, was quoted about a pilot study of the company's Altius high-frequency nerve block device for limiting amputation pain. He anticipated the device might be commercially available within two years. (Cleveland.com)
March 31, 2014 - Soterix Medical Inc. of New York City announced an allowance of patent claims for controlling the targeting of high-definition transcranial direct current stimulation. The company says its technology combines the advantages of transcranial direct current stimulation and transcranial magnetic stimulation. The non-invasive system is being trialled in applications spanning depression, pain, epilepsy and stroke rehabilitation. The company uses individualized brain current-flow modeling and patented algorithms for placing and energizing high-definition electrodes on the scalp. (Digital Journal)
March 31, 2014 - Nevro Corp. announced appointment of David Caraway, MD, PhD as its chief medical officer. A member of the International Neuromodulation Society, Dr. Caraway is a pain management physician who has been active in developing the field of neuromodulation. Nevro's high-frequency spinal cord stimulation system, Senza, is authorized for sale in Europe and Australia. (Digital Journal)
March 31, 2014 - Researchers in Japan combined repetitive transcranial magnetic stimulation and diffusion-weighted MRI to observe plasticity-related changes in brain regions that are affected through neural networks by the stimulation, but are not themselves stimulated. (Medical Xpress)
March 28, 2014 - Los Angeles-based NeuroSigma, Inc. has expanded its management team with two former Amgen finance executives. Carl Adams, who was briefly the company's controller and vice president, was promoted to chief financial officer.Craig Rostamian was appointed vice president of Finance, where he will oversee financial planning and analysis. NeuroSigma has Health Canada and CE Mark approval to market its external trigeminal nerve stimulation system, the Monarch™ eTNS™ System, for the adjunctive treatment of drug-resistant epilepsy and major depressive disorder for adults and children 9 years and older. (Wall Street Journal)
March 28, 2014 - A student who received a vagus nerve stimulator two years ago to help control her epileptic seizures, and her younger sister, participated in an annual worldwide Purple Day campaign to raise awareness by telling of their experiences with the condition. The young woman has gone three months without a seizure and would like to be eligible for a driver's learning permit if she goes six months seizure-free. (Cowichan Valley Citizen)
March 2014 - An examination of 2.4 million discharges for Parkinson's disease from 2002 - 2009, conducted through hierarchical multivariate analysis of the Nationwide Inpatient Sample, showed that although 4.7% of all Parkinson's disease discharges were of African American patients, only 0.1% of the Parkinson's disease discharges among African Americans were for deep brain stimulation (DBS), indicating a disparity in access to this care. The study authors say that even though African American patients are more often discharged from urban teaching hospitals with a higher-than-average density of neurologists, the patients received disproportionately fewer DBS procedures than their non-African American counterparts. (JAMA Neurology)

France Issues Neurostimulation Health Technology Assessment
March 27, 2014 - Chronic neuropathic pain, complex regional pain syndrome, and ischemic pain are considered indications in which neurostimulation can play a treatment role, according to a health technology assessment just published by the French commission for evaluation of medical devices and health technologies. (Vidal)
March 26, 2014 - In a small, double-blind study in France, 38 fibromyalgia patients either received sham stimulation or repetitive transcranial magnetic stimulation to the left primary motor cortex. After 14 stimulation sessions over 10 weeks, the patients were assessed for quality of life. In addition, PET scans were periodically performed throughout the treatment period. The study found that patients receiving active stimulation reported an improved quality of life and also had an increase in metabolism in the right limbic area. The study authors report in Neurology that the study provides Class II evidence for effectiveness of the intervention. (Health Day)
March 25, 2014 - Khalid Ishaque, most recently general manager of Boston Scientific's international neuromodulation business, has been named chief executive officer and director of a Paris company that works on retinal implants to restore sight, Pixium Vision. Pixium has a surface-retinal-implant system, IRIS®, that entered a clinical trial in 2013 with initial patient data expected in 2014 to form the basis of a CE Mark application. The company is also developing a sub-retinal implant system, PRIMA™. Formed in 2011 based on research from the Vision Institute and Université Pierre et Marie Curie, the company incorporates academic research from the U.S. and Europe, and has raised €24.5m from venture capital and investment firms including Sofinnova Partners, Omnes Capital, Abingworth, Global Life Sciences Ventures, Bpifrance, Seventure and Polytechnos. (Pixium Vision)
March 25, 2014 - Axonics Modulation Technologies of Irvine, Calif. has raised $32.6 million in a Series A preferred stock financing led by Edmond de Rothschild Investment Partners of Paris, with participation by NeoMed Management of Genveva, and Legend Capital of Beijing as well as a number of private investors. The company is developing novel implantable neuromodulation technology licensed from The Alfred Mann Foundation. Initially the company will focus on chronic pain and overactive bladder. Among the company's leaders is co-founder and medical advisor Timothy Deer, MD, a member of the International Neuromodulation Society. (Fierce Medical Devices)

Technology Assessment Forum Seeks Comment on Migraine Treatment Options
March 25, 2014 - The California Technology Assessment Forum will take written comments prior to a public meeting July 11, 2014 in Los Angeles to examine treatment options for migraine headaches, including a newly approved, hand-held device that provides transcranial magnetic stimulation. The forum is intended to provide guidance to clinicians, insurers and patients. (Institute for Clinical and Economic Review)

Firm Announces First Use of Its Technology for Asleep Deep Brain Stimulation Surgery
March 25, 2014 - Mazor Robotics Ltd. announced the first deep brain stimulation surgery using its Renaissance® Guidance System with the patient asleep. The surgeon in charge of the operation said the system allows the patient to have less anxiety and the procedure to be performed more quickly with fewer probes into the brain. The operation in Littleton, CO took place on a 65-year-old man who was recently diagnosed with Parkinson's disease. (Mazor Robotics)

U.S. Patient Describes Her Heart Failure Symptom Improvement with Vagal Nerve Stimulation Device
March 24, 2014 - A woman who is controlling heart failure symptoms with investigational use of a CardioFit (TM) vagal nerve stimulation device by BioControl Medical is interviewed on Florida television. (WJXT - Jacksonville)

Motor Cortex Stimulation Shown to Improve Training in Controlling Robotic Arm through Brain Interface
March 24, 2014 - Collaborators at the University of Tubingen and National Institutes of Health report that training healthy subjects to use a brain-machine to control a robotic arm went better with electrical stimulation to the primary motor cortex than in a control group that did not receive that stimulation. As a follow-up, the procedure will next be tested in stroke patients. (Medical Xpress)

First Patients Begin to Receive New Responsive Neurostimulation System for Epilepsy
March 24, 2014 - Epilepsy specialists and patients discuss use of NeuroPace's RNS System and the advantages of responsive neurostimulation in controlling seizure activity, compared to the previously available option of continual vagus nerve stimulation. (New York Times)


March 24, 2014 - More investigation in Europe in patients with congenital disease or trauma led to exciting results that spurred expanded interest in the U.S. for auditory brainstem implant which has been performed about 1,000 times worldwide in the last 30 years. Centers experienced in removing acoustic neuromas -- one main reason to seek the intervention -- may offer the technology. The capability is now offered in Northern Ohio at the University Hospital Case Medical Center and at the Cleveland Clinic. The House Clinic in Los Angeles developed and honed the procedure and performed the bulk of implantations in the U.S. (Cleveland.com)
March 21, 2014 - Recent CE Mark approval for St. Jude Medical's Prodigy neuromodulation device should help the company in light of declining sales of pacemakers and ICDs and competition from Medtronic, Inc. and Boston Scientific Corporation, a column in the Motley Fool says. The column mentions that the company estimates more than 1.5 billion people worldwide suffer from chronic pain, so the market for devices like the Prodigy is potentially huge. Also, the column calls neuromodulation "an up-and-coming field" in medical technology. (Motley Fool)


March 20, 2014 - The FDA approved the first implanted device for severe or profound sensorineural hearing loss -- the most common type -- for patients for whom standard hearing aids are ineffective. The device, the Nucleus Hybrid L24 Cochlear Implant system, combines elements of conventional cochlear implants and hearing aids. Manufactured by Cochlear Ltd. of Australia, the device os intended for use in just one ear to improve the ability to hear middle or high frequencies. Approval was based on a clinical study of 50 people. (Health Day)
March 20, 2014 - St. Jude Medical, Inc. announced CE Mark approval and European launch of its spinal cord stimulation (SCS) system, Prodigy™, that offers both tonic and burst stimulation for expanded therapy options. The rechargeable SCS system is subject to a U.S. clinical trial, SUNBURST™ (Success Using Neuromodulation with BURST) http://clinicaltrials.gov/ct2/show/NCT02011893. (St. Jude Medical)

Implants That Sense Neural Signals are Leading to Understanding of Brain Circuits
March 19, 2014 - Deep brain stimulation systems that can read out neural signals are contributing to studies into patterns that correlate with different symptoms of Parkinson's disease, potentially leading to creation of more tailored, responsive neurostimulation regimes. (Nature)

Retrospective Study Ranks Which Specialists Refer Chronic Pain Patients to Spinal Cord Stimulation the Soonest
March 18, 2014 - International Neuromodulation Society member Krishna Kumar, MD said in an interview about a retrospective study of 532 patients who received spinal cord stimulation (SCS) that while SCS should be considered within the first 12 - 16 weeks of chronic pain (prior to changes occurring within the brain) to improve success rates, referrals varied by specialty, with neurosurgeons on average referring after 2.69 years, and orthopedic surgeons and anesthesiaiologists referring after 4.30 and 4.84 years, respectively. (Medscape)

Company Ships Next-Generation Device for Diabetic Pain
March 18, 2014 - A transcutanteous electrical stimulation system designed to relieve neuropathic pain during sleep has been released in its second-generation form by NeuroMetrix, Inc. The company's Sensus (TM) pain management system is intended for diabetics who have chronic pain, such as from painful diabetic neuropathy. In its second iteration, the device is thinner than the previous device released in 2013, and has several hardware improvements. (Wall Street Journal)
March 13, 2014 - A woman who lost hearing due to benign tumors received an auditory brainstem implant (ABI) at University Hospitals Case Medical Center in Cleveland. In an announcement, a medical school professor was quoted as saying the effectiveness of ABI is limited. After the device is turned on in 6-8 weeks, she will undergo rehabilitation therapy to maximize the benefit of the additional sense of sound provided by the device. She was the first in Northeast Ohio to receive an ABI. Her surgeons consulted with the Los Angeles-based House Ear Clinic, which has performed the bulk of these surgeries nationally since their development in the 1970s. (Newswise)
March 13, 2014 - A 42-year-old man who has suffered more than 16 years of knee pain due to accidents and osteoarthritis, considered too young to receive a joint replacement that may last only 20 years, was given a peripheral nerve stimulation implant after a successful trial. This was considered an uncommon application of the fairly common pain intervention. (Chicago Tribune)
March 13, 2014 - The National Institute of Child Health and Human Development has given a $1.5 million grant to a faculty member at the University of Illinois at Chicago's Brain Plasticity Lab to compare gait training with or without brain stimulation in patients who have experienced a stroke. The neuromodulation treatment group will receive transcranial direct current stimulation in advance, and electrical stimulation in combination with motor training of the ankle. The investigator will also use MRI to see if there were any changes in cortical activity associated with the therapy. (Phys.org)


March 11, 2014 - The FDA announced it has given its first approval to a transcutaneous electrical nerve stimulation device meant to be used prior to the onset of pain -- the Cefaly headband-like device that stimulates the trigeminal nerve above the eyes. Designed to prevent migraines by being used daily for 20 minutes, the device is available by prescription, and may help patients who cannot tolerate migraine-prevention medication. Approval was based on a clinical study of 67 individuals in Belgium who experienced fewer migraines through its use, as well as a study of 2,313 users in France and Belgium, 53% of whom said they were satisfied and willing to buy the device for continued use. Cefaly is manufactured by STX-Med in Herstal, Belgium. (FDA)
March 11, 2014 - Patients who are not making progress having given current treatment a chance would be potential candidates for heart failure treatment using an implanted neurostimulator to treat the parasympathetic nervous system, a cardiologist says in a question-and-answer section accompanying an article about the first patient in Florida to receive the CardioFit™ nerve stimulator in a U.S. clinical trial of the device, which is approved for marketing in Europe. The device from Biocontrol Medical combines a sensor in the heart and stimulator on the vagus nerve. (Ivanhoe Newswire via WWSB)


March 11, 2014 - Twenty-four months of results were published in the March 2014 issue of Pain Medicine regarding a prospective European clinical study of high-frequency spinal cord stimulation for chronic, refractory low-back and leg pain. In the study of Nevro Corp.'s Senza system, back pain was reduced from an initial 8.4 out of 10.0 to 3.3, and leg pain was reduced from 5.4 out of 10.0 to 2.3. Of 82 patients trialed, 72 went on to permanent implants and 65 were available for a two-year follow-up. In addition to reduced pain, patients reported increased function, better sleep, and decreased opioid use. Adverse events resembled those seen with traditional spinal cord stimulation. Senza is authorized for sale in Europe and Australia, supported by European data published in Pain Medicine and in Neuromodulation: Technology at the Neural Interface in 2012. In the U.S., the system is undergoing a pivotal randomized controlled clinical trial, with enrollment completed one year ago of 241 patients at 11 pain treatment centers. (PR Newswire)

Vagus Nerve Stimulation System Company Receives Positive Investment Analysis
March 10, 2014 - An investment analyst issues a positive report on the company Cyberonics, Inc., explaining that up to one-third of epileptic patients do not respond to medication, and that the Houston, TX company's implantable vagus nerve stimulation (VNS) system for treatment-resistant epilepsy has been implanted in more than 75,000 patients since 1997. The company recently released a VNS device that activates in response to abnormal heart rhythms associated with seizures. The analyst said one study showed that in about 62 percent of activations seizures were diminished or halted, adding that the cost of the device and Medicare reimbursements are climbing, while VNS saves an estimated $60,000 in treatment-related expenses. (Investing Daily)

March 10, 2014 - Australia has cleared Mainstay Medical to begin a clinical trial of an implantable neurostimulation device for chronic low back pain, ReActiv8, which stimulates nerves that contract key muscles that stimulate the lower back. Patient recruitment has begun at three clinical trial sites in Australia. In June 2013, Mainstay presented results at the world congress of the International Neuromodulation Society regarding the company's recently concluded European Feasibility Study. (Medical Device Business Review)
March 9, 2014 - Brainsway Ltd. has raised NIS 41 million (US $11.9 million) in a private-equity placement. The investment house Yelin Lapidot received 772,585 of the company's shares (5.48%) in the exchange. Brainsway will apply the proceeds to market expansion for its Deep TMS (transcranial magnetic stimulation) system for neurological/neuropsychiatric disorders. (Globes)
March 8, 2014 - A technology accelerator in India, InnAccel, has started a six-month fellowship program on Affordable Innovation in Medical Technology to train engineers and product designers in medtech invention and entrepreneurship. The first three fellows are undergoing two months of clinical observation at the trauma and emergency care unit at St. Johns National Academy of Health Sciences in Bengaluru, which already has a number of med-tech start-ups and venture capitalists, as well as a presence by multinational companies like GE Healthcare, Phillips and Siemens. (Pharmabiz.com)
March 7, 2014 - The Partnership for Advancement in Neuromodulation has published interim results of its pain registry in early view in Neuromodulation: Technology at the Neural Interface. The data from 579 patients at 40 study sites showed patient-reported pain relief was 58% at three months, 58% at six months, and 57% at 12 months. Slight more than 47% of patients stopped or decreased opioid use, while smoking was shown to significantly attenuate pain relief. (MDLinx)


March 6, 2014 - International Neuromodulation Society member Krishna Kumar, MD, presented a poster at the annual meeting of the American Academy of Pain Medicine showing that in 443 patients with chronic pain, those who waited less than 2 years for spinal cord stimulation had a 75% success rate, compared to 15% for patients who waited 20 years, (American Academy of Pain Medicine)
March 6, 2014 - The National Institutes of Health is starting a study that pairs vagus nerve stimulation and exposure to audio tones to try to reduce symptoms in patients who have moderate to severe tinnitus. The vagus nerve stimulation, provided by a device manufactured by MicroTransponder, Inc., is supposed to help re-wire the brain in response to the audio stimulation that is intended to reduce the perception of ringing in the ears that occurs in tinnitus. The clinical trial at four U.S. centers involves daily 2.5-hour sessions over six weeks. (Health Day)
March 6, 2014 - The Alfred Mann Foundation announced creation of a Minnesota-based life sciences company to commercialize an implantable infusion pump that provides capability for delivery of large molecules associated with emerging biologic therapies for neurodegenerative diseases. The new company, Medallion Therapeutics, is conducting a pivotal clinical evaluation for pre-market approval of the device in the United States, and is pursuing CE Mark certification in Europe. The foundation said in a news release that the technology is the result of more than 10 years of development, and could address unmet need and expand indications for implantable drug delivery. International Neuromodulation Society member Don Deyo, a seasoned industry executive, is chief executive officer, and Eric S. Harris, also an industry veteran, is chief commercial officer. (Jewish Business News)
March 4, 2014 - An interview, an implanting physician describes the intricacies of new work in the United States with auditory brainstem implants for children who lack the neural structures for a cochlear implant. Three pediatric patients have been implanted so far by Craig Buchman, MD, professor of Otolaryngology and Head and Neck Surgery at the University of North Carolina School of Medicine, who directs the university's Ear and Hearing Center. (Ivanhoe Newswire via My Suncoast)
March 4, 2014 - A research study comparing the ease of training insomniacs on a motor task to controls suggests that insomniacs may have a more-plastic brain. The study used transcranial magnetic stimulation (TMS) to the motor cortex to trigger a thumb movement. Subjects were asked to learn to counter the movement. Although it was hypothesized that insomniacs would be less-rested and do more poorly, they surprisingly did better, suggesting there is an association between this plasticity and "dysregulation of arousal" seen in insomnia. Potentially TMS might be used to treat insomnia, according to the author of the study at Johns Hopkins University. (Live Science)
March 4, 2014 - A clinical trial is starting at the University of Texas Health Science Center at Houston in which five adults with treatment-resistant major depression will receive deep brain stimulation to the supero-lateral branch of the medial forebrain bundle, part of the brain's reward system between the limbic system and prefrontal cortex, an area that showed promise in a Bonn-based pilot study in seven patients in which preliminary findings were published in June 2013. (Newswise)
March 3, 2014 - International Neuromodulation Society member Andre Machado, MD, PhD, and co-authors point out that a centralization of Medicare reimbursement policies for investigational medical devices, instituted in January 2014, offers two investigational device exemption categories, neither of which balances well reflecting potential therapeutic risks of applying these devices to emerging targets and indications while also being conducive to investment in development of these therapies. (Journal of the American Medical Association)
March 3, 2014 - A comparative post-mortem tissue examination of the brains of individuals without Parkinson's disease, those with Parkinson's disease who did not receive deep brain stimulation (DBS), and 12 patients who had idiopathic Parkinson's disease and received deep brain stimulation from 0.5 - 6 years before dying of other causes showed that there was a 2-6 fold greater cell proliferation in the subventricular zone of the lateral ventricles, an area of neural stem cell growth that lies close to the electrode trajectory, in the brains of the subjects who had DBS. The results suggest DBS may increase cellular plasticity, potentially in areas beyond the electrode location. The effects on Parkinson's disease symptoms and therapy are not clear. (PLoS ONE)
March 3, 2014 - Of 213 patients who received deep brain stimulation surgery targeting the subthalamic nucleus for management of Parkinson's disease symptoms while under general anesthesia, 188 were followed up after one year and 65 after five years. The resulting short-term and long-term motor effects were similar to intervention under local anesthesia, the authors state, and there were no more adverse effects. (Journal of Neurology, Neurosurgery & Psychiatry)
March 3, 2014 - The International Neuromodulation Society journal, Neuromodulation: Technology at the Neural Interface, has added a new Enhanced Article (HTML) viewing option, accessible for logged-in readers from the Table of Contents page, that facilitates online viewing on any mobile interface, from as small as the screen of a smart phone to larger-sized devices. Called "Anywhere Article," the capability from publisher Wiley-Blackwell also allows readers to offer feedback or suggestions about the new display option. INS and chapter members may read the journal by logging in at http://www.neuromodulation.com/login and clicking on the image of the journal at the member menu item "Read Neuromodulation Journal Online" (International Neuromodulation Society)
March 3, 2014 - The start of a Phase II trial of deep brain stimulation in anorexia nervosa, is described by Toronto-based researchers who have implanted 15 adults with chronic, treatment-resistant, or malignant cases of the eating disorder. Based on experience tracking response in depression to stimulation of the anterior cingulate, the team is focusing on the subcallousal cingulate of the anterior cingulate, noting that mood appears to be involved in the pathogenesis of anorexia nervosa. Another six patients have been enrolled and were awaiting surgery. (Psychiatric Times)
March 2, 2014 - A biological chemist has developed a light-sensitive compound, DENAQ, that acts on specific ion channels in response to white light, which has allowed it to restore light-sensitivity in the eyes of blind mice. The research on electrophysiological remodeling of mouse retinal ganglion cells was published Feb. 19, 2014 in Neuron; in Angewandte Chemie on Feb. 12, 2014, his research group showed that the painkiller fentanyl, when modified with an azobenzene unit, will bind opioid receptors and change shape when exposed to different frequencies of light, activating or deactivating receptor function. (Ludwig-Maximilians-Universität München)
March 1, 2014 - International Neuromodulation Society member Kaare Meir, MD, PhD and colleagues in Denmark studied 26 chronic pain patients who received spinal cord stimulation, measuring both the area of spontaneous neuropathic pain and the pain intensity. The study found a correlation in increased quality of life with decreased pain intensity, but not with decreased area of spontaneous pain. (Clinical Journal of Pain)
To see select neuromodulation news by category, as well as news about the INS in particular, please visit the Newsroom. To see archived news briefs dating back to January 2011, visit the News Archive.
---
How Has Neuromodulation Been Developed and Used?
Conventional medicine has typically had four modes of treating diseases or disorders: counseling or "talk therapy"; physical therapy involving manipulation and strengthening of muscles and range of motion; pharmaceuticals that act on a chemical level; and altering or augmenting tissue through surgery, injections, or filtering methods like dialysis. The growing field of neuromodulation is a new class of therapies that involves directly treating the nervous system itself, often through small implanted devices that target a specific area, to rebalance the activity of neural circuits and manage symptoms.
Progress has been spurred by advances in our understanding of the nervous system, as well as new technologies and clinical experience, enabling treatments to modify nerve cell activity in brain, spinal cord and periphery to restore function, minimize pain, and treat disease symptoms. Developed over the last 45 years, neuromodulation has grown rapidly into a family of therapies that applies stimulation or agents directly to the nervous system, often using small implanted medical devices that are powered in a similar fashion to a cardiac pacemaker. By delivering electrical or chemical stimulation, neuromodulation has increasingly been used to treat motor disorders such as Parkinson's disease, refractory chronic pain ranging from neuropathy to cancer related pain to severe headaches, spasticity, epilepsy, and incontinence. It is also under study for conditions ranging from gastroparesis to medically refractory depression. Providers of such therapies include neurosurgeons, pain physician specialists and rehabilitation physicians. They may often work with other specialists such as neurologists, psychiatrists, psychologists, gastrointestinal or colorectal specialists, urologists, primary care physicians, and physical therapists to achieve best outcomes.
Medical Professionals can learn about various considerations concerning neuromodulation and clinic contacts. Once your preliminary questions have been answered, please use the Contact Us facility to find out more and to discuss specific objectives. Others may simply wish to join the INS and one of its related chapter societies, please use Membership Application.
Clinical trials that involve a wide range of emerging neuromodulation approaches are listed on our Resources and Research pages. Neuromodulator trials address symptom control through nerve stimulation in such condition categories as:

If you are not a medical professional and you are searching for information about neuromodulation and how these types of treatment could benefit a specific condition such as treatment-resistant headache or other chronic pain syndromes, you may find the sections titled Therapies, About Neuromodulation or FAQs particularly helpful.
The International Neuromodulation Society (INS) is a non-profit group of clinicians, scientists and engineers dedicated to the scientific development and awareness of neuromodulation - the alteration of nerve activity through the delivery of electrical stimulation or chemical agents to targeted sites of the body. Founded in 1989 and based in San Francisco, CA, the INS educates and promotes the field through meetings, its peer-reviewed journal Neuromodulation: Technology at the Neural Interface, explanatory content, and chapter websites.

See patient information
---
Now indexed in MEDLINE!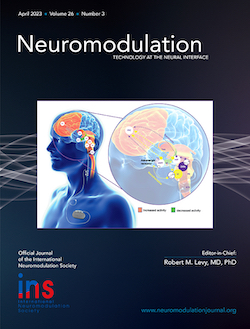 Neuromodulation: Technology at the Neural Interface contains articles of the highest scientific caliber. The journal's sole purpose is to advance the basic and clinical science of the field of neuromodulation. In eight issues a year, it publishes scientific works, scientific reviews, and abstracts of papers accepted for review at national and international congresses.
Neuromodulation is now indexed in Index Medicus, MEDLINE and Pubmed!
Click here to submit a manuscript.
---
Unique Member Benefit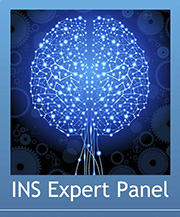 Members may log in and visit the members-only section's Global Discussion Forum to participate;
watch for updates on our
Events page and in our journal
---
---