Breaking News



Nov. 28, 2016 - An 85-person comparative study from 2005 - 2014 showed there was no outcome improvement from changing anti-epileptic drugs after a patient started vagus nerve stimulation therapy. The authors suggest keeping the same medication may allow optimizing stimulation parameters. (Epilepsy Research UK)
Nov. 23, 2016 - A pilot cross-over study published in Neuromodulation: Technology at the Neural Interface, compared three weeks of subperception spinal cord stimulation (SCS) with conventional SCS with parathesia at 10 kHz. An article suggests subperception SCS may be an effective alternative for some pain patients to find relief. The study is being followed by a subsequent multicenter, randomized, controlled, crossover, open-label study of 146 previously implanted patients that will document the efficacy of subperception SCS at up to 1.2 kHz. (Anesthesiology News)
Nov. 22, 2016 - The French biomedical research center Clinatec has raised €10 million in the past 12 months in a matching-funds campaign with the Edmond J. Safra Foundation. The center is pursuing innovative treatments for cancer, neurodegenerative diseases and motor disorders. They include a brain-computer interface project for patients with quadriplegia; a near-infrared project to potentially provide neuroprotection and slow disease progression through use of an intracranial device delivering therapeutic light; and the Epicool project that aims to develop a cooling system implanted in the brain to block seizures. Also, the center is participating in the Equoloc project that studies potential brain dysfunctions in drug-resistant obsessive compulsive disorder, using imaging, including the center's MEG capability. (Business Wire)
Nov. 22, 2016 - Partners were announced in a clinical trial of vagus nerve stimulation as a potential way to halt postpartum hemorrhage. The partners are the Global Good Fund, the Feinstein Institute, and Sanguistat, Inc., which licensed the technology from the Feinstein Institute. (PR Newswire)
Nov. 22, 2016 - Helius Medical Technologies amended its contract with the U.S. Army Medical Research and Material Command to extend it to the end of 2017 and include additional study sites for the clinical trial of the portable neuromodulation stimulator to treat neurological symptoms caused by disease or trauma. (FDA News)
Nov. 17, 2016 - A 30-patient randomized study of patients with early Parkinson's disease found that individuals who had deep brain stimulation had better motor scores five years later, compared to those who only had medical treatment. The pilot study was presented in October at the annual meeting of the American Neurological Association. The researchers at Vanderbilt University said they are now pursuing funding for an FDA-approved Phase 3 clinical trial of 280 patients at 18 centers. (Neurology Today)
Nov. 17, 2016 - Compared to sham stimulation, combat veterans with post-traumatic stress disorder showed improvements in autonomic nervous system electrophysiological measures and in the emotionally-modulated startle response following non-invasive peripheral nerve stimulation, researchers reported in an abstract at the Society for Neuroscience Annual Meeting. (Psychiatry Advisor)
Nov. 16, 2016 - A researcher described her small pilot study of transcranial direct current stimulation (tDCS) on depressed pregnant women who do not want to take antidepressants. At the University of Kansas, another researcher received $70,000 in funding to use brain imaging to compare the effects of tDCS on 40 subjects, half of whom have depression. (PBS)
Nov. 15, 2016 - A researcher presented early studies in healthy subjects to use non-invasive brain stimulation to target the hippocampi as a potential treatment for Alzheimer's disease. Imaging showed increased localized brain activity as a result of the stimulation. He also plans to target areas involved in depression and addiction. The stimulation involves using overlapping high-frequency stimulation that only exerts a physiological effect where the fields overlap and result in a lower-frequency stimulation. (New Scientist)
Nov. 15, 2016 - An article described research into printing microelectronics on hydrogels as potential future brain-machine interfaces. (SPIE)
Nov. 5, 2016 - A review of 650 cases in which Parkinson's disease patients underwent deep brain stimulation provides data that "can be used as an adjunct for short-term risk stratification" when patients are considered for the therapy, the authors state. (World Neurosurgery)
Nov. 15, 2016 - Researchers at MIT and Harvard Medical School are working on a biocompatible, stretchable material with potential applications in optogenetics, according to an MIT news release. (Medica Magazine)
Nov. 14, 2016 - St. Jude Medical has received FDA approval for conditional full-body MRI using its spinal cord stimulation system that was approved in November 2015. (Fierce Biotech)
Nov. 14, 2016 - During the Medica 2016 trade show currently taking place in Germany, the ICube spinoff Axilum Robotics presented a robotic transcranial magnetic stimulation system intended for precision and repeatability in treatments of patients with chronic pain and other conditions. (Medical Plastics News)
Nov. 10, 2016 - An article says that four patients who had advanced Parkinson's disease and had had deep brain stimulation experienced improved gait after spinal cord stimulation. (Movement Disorders)
Nov. 9, 2016 - In a review, authors interested in the role of deep brain stimulation to the subthalamic nucleus for obsessive compulsive disorder say this target "has a coordinating role in decision-making and action-selection mechanisms" and they believe the treatment helps to normalize the disturbed circuit activity seen in the condition. (European Neuropsychopharmacology)
Nov. 7, 2016 - A viewpoint article raises the issue of third-party payers, including federal insurance providers, not reimbursing pre-approved off-label use of deep brain stimulation for severe, medication-refractory neurological and psychiatric disorders such as Tourette syndrome and obsessive compulsive disorder. (JAMA Neurology)
Nov. 4, 2016 - International Neuromodulation Society members Koichi Hosomi, MD, PhD; Haruhiko Kishima, MD, PhD; and Youchi Saitoh, MD, PhD and colleagues co-authored an article in Nature Communications, "Induced sensorimotor brain plasticity controls pain in phantom limb patients" The article describes phantom limb pain observed when study subjects used a brain-machine interface to move a robotic hand. When the interface used sensorimotor signals representing the missing limb, the pain increased -- perhaps due to the lack of sensory feedback, the authors commented. (Clinical Pain Advisor)
Nov. 12, 2016 - Researchers in Utrecht reported in the New England Journal of Medicine that they have demonstrated a brain-computer interface that allowed an ALS patient who has no voluntary movement except for her eyes to use cortical brain signals to slowly spell words using typing software. The interface responds to her imagining she is moving her hand. A member of the team said the implant provides a way to communicate immediate needs. He added that she had been avoiding going outdoors because the eye-tracker she uses to communicate must be re-calibrated in different light conditions. (The Seattle Times)
Nov. 10, 2016 - Researchers in New York plan to undertake a randomized clinical trial of 40 veterans of the 1990 - 1991 Gulf War who have widespread pain and migraines. The study, funded by a $703,200 medical research grant from the U.S. Army, will investigate the use of non-invasive vagus nerve stimulation to treat their symptoms. (Newswise)
Nov. 9, 2016 - International Neuromodulation Society members Leonardo Kapural, MD, PhD, and Kiran Patel, MD, were quoted in an article about a recently published study of high-frequency spinal cord stimulation. (UPI)
Nov. 9, 2016 - An international research team reported in a letter to Nature that they had demonstrated two monkeys the capability of restoring movement to a lower limb through dual electrode interfaces at the brain's motor cortex and the lower spinal cord. With the neuroprosthetic implant, the research subjects regained the ability to walk following a spinal lesion that paralyzed one leg. (Seeker)
Nov. 9, 2016 - Nuvectra Corporation announced a 196.3% increase in revenue in the third quarter of 2016, compared to the third quarter of 2015, related to a deep brain stimulation development agreement with Aleva Neurotherapeutics and commercial launch of Nuvectra's spinal cord stimulation system. The revenue of $3.8 million for the third quarter of 2016 was offset by operating expenses of $11.1 million. The company said the costs reflect its investment in a sales and marketing team and increased headcount after becoming a publicly traded company. (Globe Newswire)
Nov. 8, 2016 - A journal article says relative safety and efficacy of deep brain stimulation has become more widely accepted, adding that investigations into its use in psychiatric disorders "suggest moderate benefit in many cases and remain encouraging." (Psychiatric Annals)
Nov. 8, 2016 - An SEC filing shows that Inspire Medical Systems, which developed and produces a sleep-apnea implant, raised $12.5 million in equity financing. (Mass Device)
Nov.8, 2016 - A controlled study of 20 Air Force personnel found that transcranial direct current stimulation increased working memory when they undertook a test that required them to multitask. The authors think the stimulation may help with attention and vigilance. (International Business Times)
Nov. 8, 2016 - Medtronic Canada announced the first patients had been implanted with its spinal cord stimulation leads that are licensed for full-body MRIs under specified conditions. The announcement noted the leads have been approved by the regulatory body Health Canada. (Newswire)
Nov. 8, 2016 - The BBC reports that a specialty center to provide deep brain stimulation for movement disorder patients in the north and east of Scotland is delayed and not expected to open until the spring after final equipment and staffing arrangements are made. (BBC News)
Nov. 7, 2016 - The first retinitis pigmentosa patient in the U.K. received an implanted retinal prosthesis in a clinical trial by the device company Pixium Vision. (Mass Device)
Nov. 4, 2016 - A Canadian woman who is participating in a clinical trial of deep brain stimulation in Alzheimer's disease describes her experience in an article that mentions the search for 97 more participants to enter the third phase of the clinical trial. Results of the second phase, published in September, showed a trend toward a benefit in patients above age 65. The clinical trial investigates stimulation of the fornix as a potential intervention for mild Alzheimer's disease. (CBS News)
Nov. 3, 2016 - A randomized controlled clinical study of 54 patients with phantom limb pain following traumatic limb loss from land mine explosions indicated that repetitive transcranial magnetic stimulation produced better results than sham over the two-week treatment period, but the effects faded by 30 days post-treatment. The study author commented that in other pain disorders, periodic maintenance stimulation treatments have been safe and effective for sustaining benefit. (Pain Medicine News)
Nov. 2, 2016 - Second Sight Medical announced that in 2017 its retinal prosthesis will have a new Medicare implantation payment rate and billing codes for programming or reprogramming. (Mass Device)
Nov. 2, 2016 - International Neuromodulation Society member David VanSickle, MD, discussed changing guidelines of when to consider deep brain stimulation for Parkinson's disease in an article announcing an upcoming presentation organized by the Parkinson's Association of the Rockies. (Steamboat Today)
Nov. 2, 2016 - A market report predicts that by the end of the year 2021, deep brain stimulation will represent almost 20% of the market share for neurostimulation devices. (Business Wire)
Nov. 2, 2016 - A research team has demonstrated the capability of delivering neurotransmitters at nearly the same rate as neurons. An article says this technology could be coupled with deep brain stimulation to provide chemical treatment in addition to electrical stimulation in conditions such as epilepsy. (IEEE Spectrum)
To see select neuromodulation news by category, as well as news about the INS in particular, please visit the Newsroom. To see archived news briefs dating back to January 2011, visit the News Archive.
---
How Has Neuromodulation Been Developed and Used?
Conventional medicine has typically had four modes of treating diseases or disorders: counseling or "talk therapy"; physical therapy involving manipulation and strengthening of muscles and range of motion; pharmaceuticals that act on a chemical level; and altering or augmenting tissue through surgery, injections, or filtering methods like dialysis. The growing field of neuromodulation is a new class of therapies that involves directly treating the nervous system itself, often through small implanted devices that target a specific area, to rebalance the activity of neural circuits and manage symptoms.
Progress has been spurred by advances in our understanding of the nervous system, as well as new technologies and clinical experience, enabling treatments to modify nerve cell activity in brain, spinal cord and periphery to restore function, minimize pain, and treat disease symptoms. Developed over the last 45 years, neuromodulation has grown rapidly into a family of therapies that applies stimulation or agents directly to the nervous system, often using small implanted medical devices that are powered in a similar fashion to a cardiac pacemaker. By delivering electrical or chemical stimulation, neuromodulation has increasingly been used to treat motor disorders such as Parkinson's disease, refractory chronic pain ranging from neuropathy to cancer related pain to severe headaches, spasticity, epilepsy, and incontinence. It is also under study for conditions ranging from gastroparesis to medically refractory depression. Providers of such therapies include neurosurgeons, pain physician specialists and rehabilitation physicians. They may often work with other specialists such as neurologists, psychiatrists, psychologists, gastrointestinal or colorectal specialists, urologists, primary care physicians, and physical therapists to achieve best outcomes.
Medical Professionals can learn about various considerations concerning neuromodulation and clinic contacts. Once your preliminary questions have been answered, please use the Contact Us facility to find out more and to discuss specific objectives. Others may simply wish to join the INS and one of its related chapter societies, please use Membership Application.
Clinical trials that involve a wide range of emerging neuromodulation approaches are listed on our Resources and Research pages. Neuromodulator trials address symptom control through nerve stimulation in such condition categories as:

If you are not a medical professional and you are searching for information about neuromodulation and how these types of treatment could benefit a specific condition such as treatment-resistant headache or other chronic pain syndromes, you may find the sections titled Therapies, About Neuromodulation or FAQs particularly helpful.
The International Neuromodulation Society (INS) is a non-profit group of clinicians, scientists and engineers dedicated to the scientific development and awareness of neuromodulation - the alteration of nerve activity through the delivery of electrical stimulation or chemical agents to targeted sites of the body. Founded in 1989 and based in San Francisco, CA, the INS educates and promotes the field through meetings, its peer-reviewed journal Neuromodulation: Technology at the Neural Interface, explanatory content, and chapter websites.

See patient information
---
Indexed in MEDLINE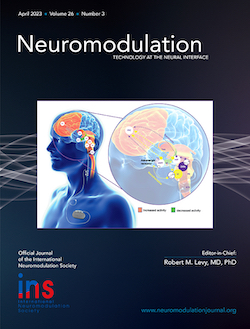 Neuromodulation: Technology at the Neural Interface contains articles of the highest scientific caliber. The journal's sole purpose is to advance the basic and clinical science of the field of neuromodulation. In eight issues a year, it publishes scientific works, scientific reviews, and abstracts of papers accepted for review at national and international congresses.
Neuromodulation is indexed in Index Medicus, MEDLINE and Pubmed!
Click here to submit a manuscript.
---
Unique Member Benefit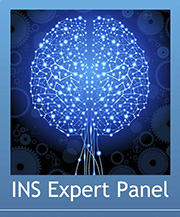 Members may log in and visit the members-only section's Global Discussion Forum to participate;
watch for updates on our
Events page and in our journal
---
---